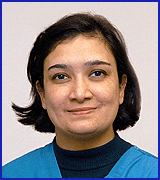 Smriti Nalwa, MD, completed her residency at the Jersey Shore University Medical Center in New Jersey in 2004. Since then she has been practicing in the Bay Area.
Prior to her residency, she practiced Ob/Gyn in Bombay, India, for several years. She speaks several Indian languages, including Punjabi, Hindi, Gujarati and Marathi.
She has privileges at O'Connor, Good Sam & El Camino Hospitals.
She lives with her children, her Golden Retriever and her husband, who has a PhD in Electrical Engineering from Stanford University and is currently President of FullView.